International conferences and social meetings
Paris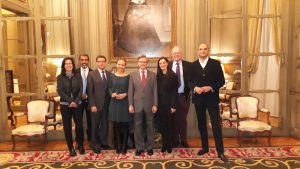 The Spanish Embassy in Paris opened its doors to ESADE Alumni for one of the most emblematic event of the 2017-18 academic year on Monday December 4th 2017. On this occasion the alumni had the pleasure of meeting the ambassador Mr Fernando Carderera.

 The Spanish embassy, which is also the ambassador's residence, is a historic and elegant building: the perfect setting for an enjoyable evening reception also attended by IESE and Universidad Pontificia Comillas ICAI-ICADE alumni.
Montreal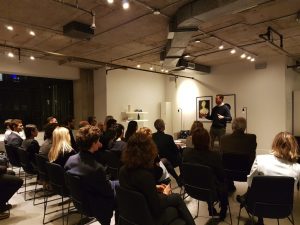 The ESADE Alumni Canada Chapter held a talk by Caroline Leblanc (MMM 16), brand ambassador for Bodegas Torres in Canada and a wine tasting on December 5th in Montreal.

 During this interview, Caroline Leblanc (MMM 16) outlined her experience at ESADE, how ESADE influenced her professional career, and her experience working in Canada for an international wine cellar company such as Bodegas Torres. While completing her MSc at ESADE, she started training and working part-time at Bodegas Torres in Vilafranca del Penedès and knew from the start that the company's mission, vision and objectives were aligned with hers. Iñaki Ocaña (Lic&MBA 06 / DARH 12), international director of ESADE Alumni, and Edina Horvath, associate director of admissions to the MBA and MSc programmes, joined this session to give full details of ESADE Alumni's international challenges and ESADE Alumni's main services for members.
 Jordi Vilanova (CE Lic&Master 81), vice-president of the ESADE Alumni Canada Chapter, gave the closing comments.
New York City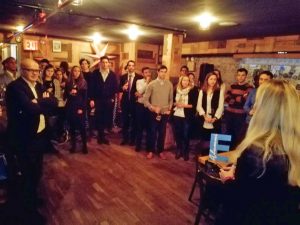 The ESADE Alumni New York Chapter organized a Holiday Party with special guests and activities at the great, old-fashioned Paulaner brewery in Manhattan on Monday December 11th. 

The event started with a brewery tour at the Paulaner Brauhaus led by the general manager, Marco Santomauro. Paulaner is a traditional Bavarian restaurant and German brewery. This was followed with a talk by the successful entrepreneur Alessandro Biggi (MIM 2010), who shared his great projects and lessons learned around the US and Europe. Alessandro is the CEO of Zooppa, a network of 450,000 creatives that provides top brands with the curated creative content they're looking for. Iñaki Ocaña (Lic&MBA 06 / DARH 12), the international alumni relations director, and Edina Horvath, associate director of recruiting and MBA / MSc admissions, gave full details of ESADE Alumni's international challenges and ESADE Alumni's main services for members.
Washington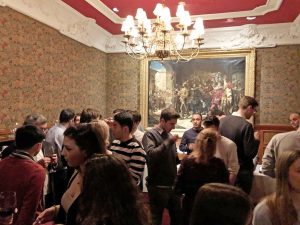 The ESADE Alumni Washington Chapter held "Brexit as a political risk", a talk by Ángel Saz, associate professor in ESADE's department of strategy and general management on Thursday, January 18th in Washington. The session covered Brexit's possible causes, recent developments, future possibilities and the political risks involved. Ángel Saz-Carranza (Barcelona, 1976) is the director of the ESADEgeo Center for Global Economy and Geopolitics in addition to being a lecturer in the department of strategy and general management. He also works as a consultant for several non-profit and governmental institutions in Europe, Africa, Latin America and Asia.
Berlin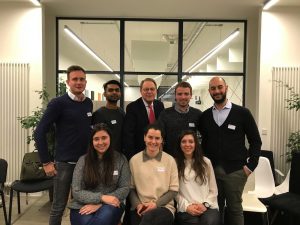 The ESADE Alumni Berlin Chapter held "Critical Success Factors in Innovation and Entrepreneurship. What's hot and what's not", a talk by Professor Kenneth Morse on January 17th. Speed is the handmaiden of innovation. In order for companies to achieve incremental, radical and open innovation, they must condense their decision-making processes and improve their internal pitching skills.



 Ken Morse has been a visiting professor at ESADE Business School for the last seven years. He has been a high-performance leader in global high-tech sales and sales management for over 35 years, and has co-founded six high-tech companies with MIT friends and classmates.
Bogotá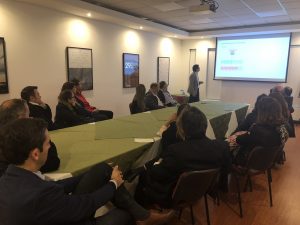 The ESADE Alumni Bogotá Chapter organized "The importance of social media management in companies", a talk by Javier Castro (MBA 05), Director of Adsmurai Colombia.

 Brands in all industries are investing more and more human and financial resources in the management of digital marketing and advertising campaigns. 

This obliges all companies to keep pace and, above all, to make effective use of digital marketing and advertising possibilities. 

The talk addressed, among other questions, why it is important to combine content and advertising, how to transform social media likes into customers, how to boost campaign automation, or what do we need to ensure a return on digital investment.
Social Events in:
Amsterdam
Andorra
Athens
Basel
Beijing
Berlin
Bogotá
Boston
Brussels
Chicago
Cologne
Copenhaguen
Delhi
Doha
Dublin
Frankfurt
Geneva
Hamburg
Houston
Lausanne
Lima
London
Luxembourg
Miami
Milan
Montreal
Munich
New York
Panama
Paris
San Francisco
Shanghai
Stockholm
Sydney
Tokyo
Toronto
Valencia
Viena
Washington
Zurich