4th Esade Alumni & Idealista Real Estate Challenge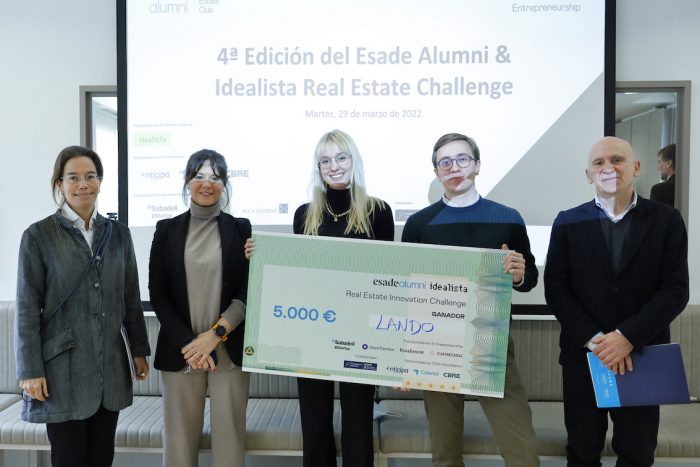 Lando, a project by Artur Grau and Helena Grau (BBA&Law '23), was chosen as the winner of the 4th Esade Alumni & Idealista Real Estate Innovation Challenge on 29th March at Esade Barcelona, prevailing over the other finalists. CoCircular received an honourable mention for being a necessary and mature company that is fully aligned with Esade Alumni's sustainability values.
Six finalists (Lando, Checktobuild, CoCircular, QOOB, Unibo and Quota), representing different stages of maturity and different segments, presented their projects to an audience of experts, investors, executives from companies linked to the real estate industry, and representatives of Esade BAN and Esade Alumni. These proposals had been selected from among 40 projects for their willingness to tackle significant challenges in the real estate industry, high growth potential, proposed prototype or minimum viable product, and suitable financial plan.
The panel of judges consisted of figures from the corporate, entrepreneurial and academic worlds: Miguel Montes (GEMBA '09), President of the Esade Alumni Business Innovation and Technologies Club; Enrique Martínez Laguna (MBA '93); Eduard Mendiluce (MBA '97); Acisclo Pérez (Lic&MBA '08) and Carmina Ganyet (VV '03), board members of the Esade Alumni Real Estate Club; Patricia Valentí (MBA '02/Promociona '19), Director of Esade Alumni; Fernando Zallo (Lic&MBA '83), Director of Esade BAN; and Daniel del Pozo, Head of Data at Idealista.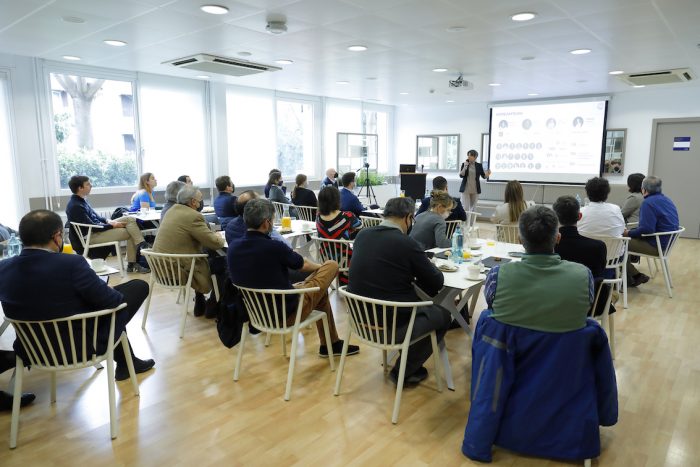 Finalist projects
Artur Grau and Helena Grau (BBA&Law '23) presented Lando, a social housing project designed as an investment product that makes the real estate market more accessible to small investors looking to save money. The idea is to tokenise homes in €100 blocks that users can buy, rent or sell via an app.
David García presented Checktobuild, an automated construction supervision project based on 3D modelling and AI that identifies technical deviations quickly and easily.
Paula Sánchez presented CoCircular, a company that aims to prevent construction waste from ending up in landfills by following EU guidelines, which require 70% of waste to be recovered and traced. CoCircular transforms waste into opportunities and certifies its recovery.
Edu Albors presented QOOB, a project that envisions micromobility as the sustainable transport of the future through the creation of charging systems, parking areas and services for these vehicles to make green cities a reality.
Pedro García presented Unibo, a purely digital financial institution – or neobank – for property managers. The project offers reduced costs, savings on fees and greater transparency.
6. Giovanni Buono (MBA '13) presented Quota, a technological tool that selects tenants and provides protection that generates landlord trust through its candidate validation system.
The winner: Lando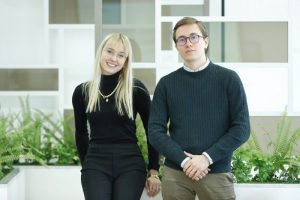 After the judges finished deliberating, the prize was awarded to siblings Artur and Helena Grau, the team behind Lando. We spoke with them about their project.
How did the idea for Lando come about?
Two experiences were fundamental to the idea of Lando. Firstly, we realised that a large number of millennials, including many of our friends and family, are aware that they should be investing part of their earnings, but do not do so, mainly due to lack of knowledge. Secondly, we realised how attractive real estate is. While we all understand this asset intrinsically, it is available to only a few. By combining these two problems, Lando emerged as a solution. Invest in real estate for as little as €100.
What sets your project apart?
The creation of a long-term savings vehicle that is very accessible to the public. We want to enable the purchase of small fractions of properties, offer subscription models and wrap the product in an attractive, modern interface, so that we can reach users who are not yet active investors. We want to create an investment product that is easily understandable for consumers, both in its essence and in the acquisition process.
What is the current status of the project and what are the next steps?
Right now, we are concentrating our efforts on two fronts: developing our software and resolving the regulatory issue. With these two pillars in place, we will do a beta launch as a proof of concept, whereby we will offer our first fractionalised and tokenised property.
Where did your entrepreneurial spirit come from? And what about your interest in the real estate sector?
Our father passed away in early 2020 and we needed a source of income, so we decided to rent out the assets we owned. Initially we did it out of necessity, but we quickly realised that we liked the work involved in property management: drawing up contracts, dealing with tenants, coordinating refurbishments and maintenance, etc. But what we liked the most, by far, was forming a team and dealing with problems together.
Having seen, on the one hand, the amount of work involved in managing rental properties and, on the other hand, the need of many millennials to find financial assets that suit their needs – this was the origin of our entrepreneurial spirit and, hence, Lando. With Lando, we will be able to help people make better financial decisions, thereby alleviating the socio-economic polarisation between landlords and tenants that we see in other European countries – which is where Spain is heading. We are already seeing the amount of work and headaches involved in being entrepreneurs, but we are convinced that it is worthwhile.
What has the experience of participating in the Challenge been like?
The Challenge has been a very enriching experience. We had the chance to meet other entrepreneurs in the industry with very interesting ideas and learn from startups in more advanced stages of development. Precisely because of the high quality of the other finalists, we are very pleased and grateful to have been selected as the winners of the Challenge.
What does winning this award mean to you? And what will you do with it?
Winning the Challenge means, first and foremost, that the judges had confidence in our project. We are deeply grateful for this confidence, and for the support of the Esade Alumni team. The most direct and material aspect of this prize – the €5,000 awarded to the winning startup – will be invested directly in our project, probably in legal advice and the development of the app and the website.