International conferences and social meetings
London
Leadership is far more than a desired position and a matter of simply being qualified in managing groups of people. It is also about developing and sharing your human qualities and values. The conference "Dare to be an Authentic Leader!", organized by the Esade Alumni London Chapter, was a motivational and interactive talk/workshop where Alexandra Panayotou shared the key steps and tools which can be immediately applied to oneself and the team —empowering them to develop their own leadership skills and helping create tomorrow's leaders. Panayotou is a changer of lives. She has developed a series of corporate and personal development programs that achieve long-term sustainable results. As a specialist in executive and personal development, as well as burnout prevention and recovery, Alex's method is innovative and unique. Apart from this professional side, her athletic side is also outstanding. Alex has run more kilometres than most people have driven. In 2004 she came 2nd in the Barcelona Marathon, 4th in the Greek Championships and won many races before she turned to solo extreme running for charitable causes.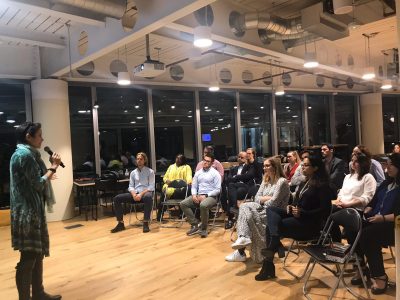 Tokyo
The Esade Alumni Tokyo Chapter reunited again, this time for an interesting and informal interview to ESADE Professor Ken Morse, a serial entrepreneur, business angel and global sales veteran. The interview was run by ESADE alumni Miku Sawano (MBA 16), journalist and business professional at one of Japan's biggest newspaper companies. During this interactive session alumni had the opportunity to ask questions to the professor and, after the interview, they discussed different topics while having networking drinks all together.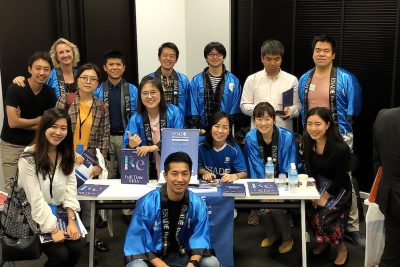 Dubai
Seventy-five percent of talking during the average business meeting is done by men. Preliminary results from Partners In Leadership research confirm this finding: Women above men still struggle to find their voice in the room. So how can professional women assert themselves, overcoming this fear and projecting confidence in the workplace? The way you say what you mean is crucial, and differs from one person to the next. Language is learned social behavior: How we talk and listen are deeply influenced by cultural experience and linguistic style. During this special event organized by the Esade Alumni Chapter Dubai, Esade Professor Katharine D'Amico shared with Dubai alumni 10 key topics focused on linguistic style and techniques to improve the way we express ourselves. After this theoretical session, they learned more from the personal and professional experience of successful women working in top technology positions: Sheena Thomson, Digital Transformation Director, Africa, India & Middle East (AIM) at EY; Eleni Kira, Facebook MENA Head of Financial Services & Automotive (and EMEA Women@ Lead for Facebook); and Stephanie Fernandez, Head of MENA LinkedIn Sales Solutions.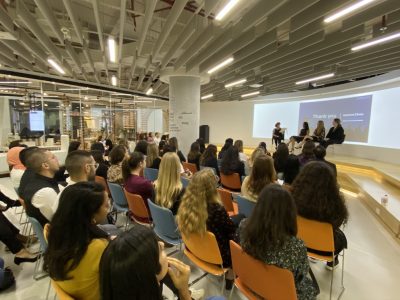 Social Events in:
Amsterdam
Andorra
Athens
Bangalore
Barcelona
Berlin
Bilbao
Bogota
Brussels
Budapest
Buenos Aires
Copenhagen
Dubai
Dublin
Frankfurt
Geneva
Girona
Hamburg
Hong Kong
LA
Lausanne
Lima
Lima
Lisbon
Lleida
London
Mallorca
Miami
Milan
Mumbai
New Delhi
NYC
Oslo
Paris
Porto
Riyadh
San Francisco
Santiago de Chile
Sao Paulo
Seoul
Sevilla
Shanghai
Singapore
Sofia
Stockholm
Taipei
Tarragona
Tokyo
Toronto
Valencia
Viena
Washington DC
Zaragoza
Zurich