International conferences and social meetings
Switzerland
The ESADE Alumni Switzerland Chapter organized the conference "Do you dare to overcome yourself? Transform your life to find your direction, balance, and joy" by Alexandra Panayotou, motivational speaker and executive guide/coach, in Geneva. We are capable of so much more than we imagine. We hold the keys to success, and the secret of how to achieve this is inside each of us. We just need to find it. This talk inspired and motivated the alumni to unlock their own potential, and equipped them with several of the tools necessary to start living it to the full. Lastly a part from Cristina Bergua (Lic&MD 00), vice president of the Chapter and Monica Neagu (MIM 09), member of the Geneva board, joining this event were Iñaki Ocana (Lic&MBA 06 / DARH 12), International Director at ESADE Alumni as well as Manuel Morales (EMBA 11), President of the Switzerland Chapter and Sanja Ilic, International Alumni Relations Coordinator at ESADE Alumni.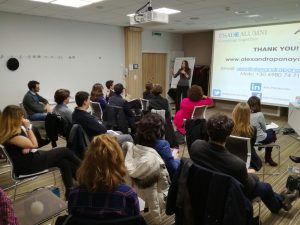 Italy
The ESADE Alumni Italy Chapter and Startup Grind Milano organized the Emerging Leaders Talk with Andrea Saviane at Bocconi University in Milano. Andrea Saviane is Country Manager Italy at BlaBlaCar, the world's largest carpooling community. After three years managing web projects for some of Italian foremost companies and brands, he joined a consumer electronics startup (2011) as marketing and communications manager.
In mid 2013, Andrea joined BlaBlaCar as marketing manager, with the goal of driving BlaBlaCar's growth in Italy. Country Manager Italy at BlaBlaCar since September 2014, and manager of their Italian branch in Milan, Andrea is a staunch supporter of the sharing economy and sustainable development, and shares BlaBlaCar's mission to create a new global and eco-friendly transport network.
Perú
Digitalisation is having a profound impact on all aspects of society and, therefore, business at a tremendous pace. Traditional customer relations are giving way to the new challenges arising from shifting consumer patterns. In response to this new shopper, companies can implement new types of consumer relations based on four main pillars: how to create user flow, which functions should be provided, how to manage feedback and how to focus on customer loyalty. For these reasons, the ESADE Alumni Peru Chapter held a talk entitled "Digital Transformation" by Marc Cortés (MBA 99), academic collaborator in ESADE's Marketing Management Department in Peru.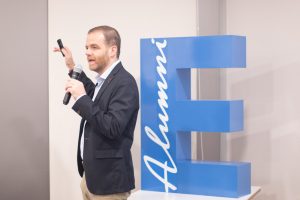 Colombia
The ESADE Alumni Colombia Chapter organized a conference for entrepreneurs created by former ESADE students at the National Uniandinos HQ.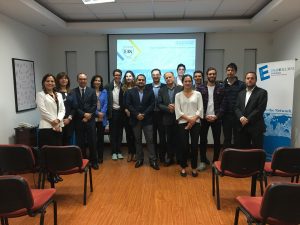 The Netherlands
The ESADE Alumni Netherlands Chapter counted on the visit of professor Sebastian Kortmann who talked about "Designing Customer-Centric Business Models in the Digital Age" in Amsterdam. Sebastian is the director of the Amsterdam MBA, an associate professor of strategy and innovation at the University of Amsterdam Business School, a visiting professor at the University of San Diego School of Business Administration (USA), ESADE Business School (Spain), and a co-founder and managing director at ThinkPals.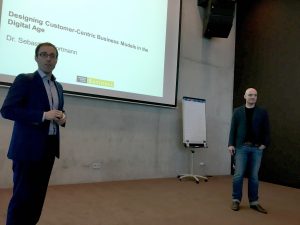 USA
The ESADE Alumni California Chapter together with ESADE presented the ESADE Alumni panel "Incumbents vs New Players. Two ways to approach Disruption". Professor Ivan Bofarull (Lic&MBA 97), Director of Global Insights & Strategic Initiatives at ESADE came to Silicon Valley together with ESADE staff and 27 students, senior directives who had just enrolled in the latest ESADE programme: The Journey to Business Transformation. ESADE is launching a uniquely curated, immersive learning experience in Silicon Valley that is given partly at the Singularity University. This event was a unique opportunity for all of our alumni to meet these 27 students, who are all senior directives in multinational companies, and listen to their fellow ESADians Daniel Moreno (Lic&MBA 08), Special Ops at Walmart eCommerce, and Alex Atienza (Lic&MBA 08), Global Operations at Netflix.
Johannesburg
The ESADE Alumni South Africa Chapter arranged a session led by Aidan Baigrie, an experienced leader in high-profile tech and media companies who talked about the role of mobile in changing Africa. Aidan is responsible for Facebook's growth in over 40 countries. In addition, he brings a unique perspective to problem solving which stems from his early days of coding and app development, lean reengineering in Africa's largest banks, advising on turnaround plans for small businesses and leading some of the most dynamic tech start-up projects in Africa.
Social events in:
Shanghai
Munich
Panama
Zurich
Lima
Luxembourg
Delhi
Bogotá
Milano
Washington
San Francisco
Paris
Johannesburg
Toronto
Boston
Chicago
Tokyo
Brussels
Seoul
Lausanne
Istanbul
Sao Paulo
Dublin
Frankfurt
Taipei
Berlin
Riyadh
Montreal
Londres
Vancouver
Geneva
Varsovia
Amsterdam
Rio de Janeiro
Stockholm
New York
Greece
Lisbon
Dubai
Tel Aviv
Singapore
Bangkok
Mexico DF
Mumbai
Athens
Budarest
Miami
Duseldorf
Hong Kong
Buenos Aires
Sidney
Quito
Guayaquil
Viena
Bangalore
Beijing
Caracas
Salvador