International conferences and social meetings
Milan
The ESADE Alumni Italy Chapter in partnership with Startup Grind Milano, hosted Salvatore Aranzulla, the most well-known Italian computer adviser and the founder of Aranzulla.it. Market leader in the computer news segment, Aranzulla.it is one of 30 most visited sites in Italy: every day, 500,000 people visit Aranzulla.it in search of solutions to their technology problems by reading one of its 7,000 step-by-step guides.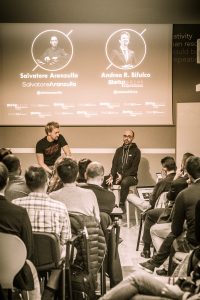 Lima
The ESADE Alumni Peru Chapter organized the session "The brand. A powerhouse of the company's competitive edge", a talk by Andrés Cuneo, associate professor in ESADE's Marketing Management Department. Companies traditionally developed their strategies on the basis of their tangible asset management but certain aspects of the competitive environment have led them to adopt intangible-based approaches in an effort to safeguard their businesses and make them grow.

 As a result, brands have emerged as one of a company's most valuable intangible assets. However, the global economic crisis, the growth of own brands, competition from low-cost operators, etc, all make us wonder whether brands are still as important for companies – and above all, for consumers.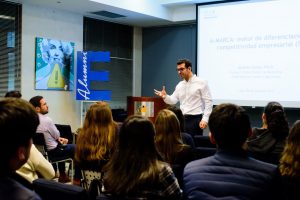 Santiago de Chile
The ESADE Alumni Chile Chapter held the talk "The FASE Method. The road to greater personal performance and effectiveness", a talk by Agustín Peralt (MBA 96), personal performance coach and mentor for executives.

 In today's world no one disagrees that we are headed for a model that entails many hours and lower productivity, so people are acutely aware of the need to address these issues. In response, Agustín Peralt has developed the FASE method – Focus, Attention, Systematisation and Energy – which enables executives to set out the next day along this new road to greater personal performance. The FASE method has already been implemented successfully in many Spanish and international companies.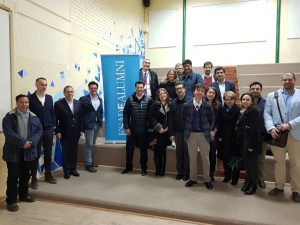 New York
The ESADE Alumni New York Chapter organized "The Automation Paradox: Vision, Ethics and Dystopia", a talk by ESADE professor Jonathan Wareham. The world of automated automobiles, the Internet of Things and smart devices is entering our lives. Although these new technologies offer wondrous convenience, services and business opportunities, their huge capacity to gather highly personal/biometric data will enable product marketing so invasive that it will fundamentally change our concepts of human free will. Although increased automation offers greater efficiency, it also threatens to dumb down our professions. This presentation took a thought-provoking look at the world of hyper-connected and automated devices and provided a positive and yet cautionary insight into what this means for us as consumers, entrepreneurs and managers.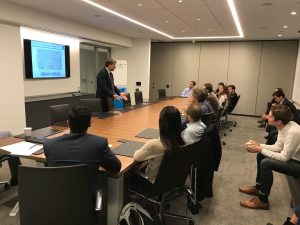 Lisbon
The ESADE Alumni Portugal Chapter organized the session "The impact on the Management of the new Privacy & Data protection rules into effect in May 2018", by Elsa Veloso, CEO of DPO Consulting, and Pedro Vale Gonçalves, former DPO from Pfizer. Elsa Veloso has broad experience in Privacy and Data protection, as well as Management and governance models. And Pedro Vale Gonçalves is specialist in Data Protection and worked also for Cuatrecasas and PLMJ. He was awarded General Counsel of the Year by Pfizer. The introduction was held by André Sousa Cruz, President of the ESADE Alumni Lisbon Chapter, and finally took place an open discussion and a cocktail of networking

Social Events in:
Sydney
Milan
Andorra
London
Montreal
Athens
Johannesburg
Cape Town
Buenos Aires
New York
Toronto
Bogotá
Berlin
Frankfurt
Lausanne
Zurich
Munich
Athens
Moscow
Milan
Lima
Paris
Santiago de Chile
Lisbon
San Francisco
Doha
Shanghai
Brussels
Boston
Warsaw
Vancouver
Cologne
Miami
Tokyo
Budapest
Beijing
Taipei
Washington
Singapore
Viena
Hong Kong
Athens
Riyadh
Amsterdam
Istanbul