ESADE Alumni Singapore Chapter
Tianyu Xu (MIM 11) came from China to study a Master's Degree in International Management and CEMS at ESADE in 2010. After graduating, he worked in the field of social media and he is currently part of Twitter's Asia-Pacific research team. He has been living in Singapore for 3 years, where he has been able to meet a large number of former ESADE students thanks to the ESADE Alumni Singapore Chapter, prompting him to take over as President.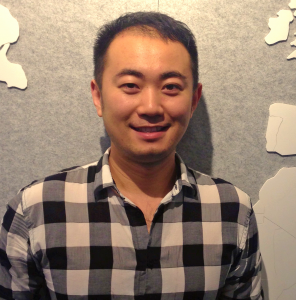 How did you get involved with the Chapter? Why did you decide to become the President of the Executive Board?
I received information about the Singapore Chapter and its events from the ESADE Alumni website. I was surprised to see so many people from ESADE at the first event that I attended, so I tried to take part in all of the events and help the former presidents, Toni Martínez (Lic&MBA 97) and Gustavo Gracia (PMD 09), to organise more activities and meet more people. Our alumni in Singapore are a fantastic community, especially for newcomers. I decided to become President because I wanted to better serve the community and create more opportunities to allow everyone to connect.
How does the Chapter work and what kinds of events does it organise?
With our Board members, we organise events every 1 or 2 months, taking into account the time of year, the themes and any visitors from ESADE. The event format normally includes after-work cocktail parties and seminars. But we are trying to vary the types of events that we organise and their themes. So if anyone has any imaginative ideas, that would be a big help.
How do the alumni benefit from being members of the Chapter?
Firstly, it is the easiest way to connect with alumni in Singapore. You can make friends and at the same time get help from people with very varied experiences. In the Chapter we are trying to make it easier for our members to connect with one another, and with other organisations such as universities, business partners, etc.
What objectives do you have in mind for the Chapter?
We would like to have a greater presence and create more of an impact in this part of the world. In particular, to attract more alumni who come to live and work in Singapore. We are also focusing on offering activities that go beyond networking.
Do you have any interesting facts to share with us?
As a city-state, Singapore is a regional centre for most of the multinational companies in Asia-Pacific. This means that there are lots of opportunities to travel abroad from here, either for business or pleasure. Therefore, we do not regularly see all of the alumni at our events, but we always have the chance to meet up with people who we have not seen for a while and even get together with our old classmates.
What does ESADE Alumni mean to you?
I always feel very honoured to be part of the ESADE Alumni network. I made a lot of friends at ESADE who helped me with both by daily life and my work.Our alumni network covers a wide range of industries and roles, so it gives you a great chance to learn from leaders and experts from different fields.Also, ESADE Alumni is a very important extension of the network once you have finished your studies, especially in this part of the world. You can come this far with a couple of classmates, but there is a larger family that you should not forget about. The Chapter is the best place to connect with all of the people who share the same educational experience, who will make it easier for you to settle into the area, giving you tips on good food, what to do at the weekend and places to visit.
Can you describe ESADE Alumni in three words?
Passionate, inspirational and diverse.
Executive Board
Tianyu Xu (MIM 11), President
Norma de la Fuente (DEC 01/ MBA 01)
Lara Hernández (MMM 13/ BBA 12)
Fernando Ibáñez (MDMC 05)
Antonio Martínez (Lic&MBA 97)
Beatriz Mullor (MDMC 05)
Paula Robles (EMMS 13)