Esade Alumni Zurich Chapter
Diego Cardona (PhD 04), Esade Alumni Colombia Chapter president, tells us about the chapter's day-to-day operations and how they are adjusting to the impact of COVID-19 by treating it as an opportunity rather than a threat.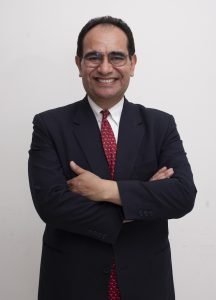 -How did your relationship with the Chapter begin? What does it mean to you to be the president of the Board?
After I graduated from the PhD in Administration programme in March 2005 and came back to Colombia, I got in touch through professional connections with several PhD alumni who we worked with on a number of academic projects. A few years later we started working with Emilio del Castillo, who came to Colombia to help build up the group through regular events largely involving networking. When Emilio went back to Spain in 2014, they offered me the chance to continue doing this with the support of an ever-growing band of enthusiasts. From a personal point of view, taking part in the Chapter is a chance to build a community of outstanding experts whose training means we have skills and abilities which have historically been shown to have an extremely constructive impact on our society.
-How is the Board organised and what are its objectives?
There has always been a group of three people, a President, a Vicepresident and a Treasurer, who work closely together to run the events needed irrespective of our "designation". Today there is me as President, Felipe Afanador as Vicepresident and Carlos Betancourt as Treasurer. I should say that although he is not on the Board, we are always supported by Esade's Director for Colombia, Robinson Ruiz. This leads to major synergies with our alma mater, and as alumni we can see how interested people are in attending events along with us at Robinson's invitation.
-What impact has the COVID-19 crisis had on the Chapter's operations?
Before COVID-19 we regularly ran events with an academic background and in some cases with a recreational aspect so as to generate both professional and also, and suddenly with even greater relevance, family interest. As a result of the situation and in line with government regulations on "Mandatory Preventive Isolation", we migrated our operations onto virtual platforms, and over these four months we have been in lockdown we have been able to run four events with great outcomes, including for example an increase in the number of participants; normally we got close to 20 people whereas for our online events we have had as many as 80 participants. We have additionally extended our geographical coverage from just Bogotá as we did before to all of Colombia and even across Latin America. On the Chapter Board team we have got used to meeting electronically.
-What is the alumni community like in Bogotá / Colombia? How are you experiencing the situation triggered by the pandemic?
Esade alumni are leaders in their fields and have a significant impact on society. We have several ministers of state, senior business executives and high-ranking education officials along with entrepreneurs who have made headway in implementing exciting business proposals, especially in disruptive economic sectors. Obviously the situation generated by COVID-19 has impacted our society and the rates of decline suggested by domestic and international think tanks are reflected in the situation of our members and their organisations. Although I don't have data and facts to back it up, I think in our case we have treated it as an opportunity rather than a threat.
-What are your goals for the coming academic year, bearing in mind the post-COVID scenarios?
As a group we are well aware of the need to expand our network by bringing in more alumni. Our percentage of members is quite low when you think about the number of alumni we have in the country. Then secondly we have always sought to have an impact on a larger geographical area than Bogotá, and the current situation has had the helpful side effect of showing us that it is possible to overcome the geographical barriers involved in travel. A third objective we have, and which we hope to finally build on, is to expand our range of specific services through partnership agreements with similar associations. We have already run exercises with Georgetown and HEC alumni because of our similar organisations and with IESE and IE because of our similar topics, and we will see how things go, for example, with Uniandinos because of our similar membership.
-What benefits do alumni get from being in the Chapter? What are their interests? Do you think it is more important to operate as a network at this time?
The key benefit of being a member of the Alumni Chapter is the networking we provide to learn about opportunities for personal and professional development. We have been able to help recently-returned alumni reintegrate into the organisational setting, we support social projects with our activities and promote not only professional development but also, and perhaps more importantly as I mentioned, personal development. However, the situation triggered by COVID-19 showed we need to work in a network in the fullest sense of the word to respond effectively and efficiently to the challenges facing society which this situation has exacerbated or revealed.
-What does Esade Alumni mean to you?
As I said before, the Alumni Chapter is a great chance for me to have a very positive impact on our society with a group of outstanding alumni experts. For example, as I mentioned previously, we have several ministers of state, senior business executives and high-ranking education officials who enable us to operate in the triple helix: government, industry and academia.