ESADE Alumni Mumbai Chapter
Udeepto Maheshwari (MBA 14) is an experienced professional with an international background and a demonstrated history of working in different environments and markets, with more than 13 years of experience spans across USA, Spain, Portugal and India. His areas of focus include Corporate Finance, M&A & Strategy, Business Development & Long-Range Planning, Strategic Marketing, Market Intelligence & Analysis, Organization & Risk Management. He is currently the President of the ESADE Alumni Mumbai Chapter.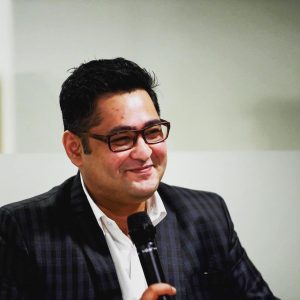 How did you get involved in the Mumbai Chapter? Why did you decide to become Chapter board member?
I returned to India at the end of 2014 and decided to continue my career in India itself. Having been in financial services for so long I was so looking at start up oriented roles in the financial services space itself. Having found a good profile I decided that it was time to concentrate on improving the ESADE brand in India. On my end the only way that could be done was by getting involved in alumni activities & focusing on those events that matter not only to the alumni but the broader community as well. That's how I first started off as a board member, moved on to become the Vice President and eventually head the Chapter today. My different roles have allowed me to build this chapter into an ecosystem with a long-term view.
How does your Chapter work and what type of events do you organize?
Collaboration, team work & content has been the core focus on the Mumbai Chapter. As mentioned above, we endeavor to bring those events that are relevant themes, topics of discussion or trending as a sector. As a result, we have been consistently bringing such events since 2015, few instances are as follows: ESADE Biz Talks Summit – Marketing & Advertising in India Today: CMO and Industry veterans with deep sector expertise across Marketing, PR, Advertising & Communications – from Videocon, Tata Group & Mahindra Group; and ESADE Biz Talks Summit – Human Resources & Executive Search in India Today. Heads of MNC firms talking about the emerging trends in Human Resources today, the use of Big Data & future trend setting from across Deutsche Bank, Forbes, Michael Page & GSK.
The above are just a few of the kind of events that we have brought to Mumbai city. Audiences typically feature ESADE Alumni, working professionals from across the industry and alumni from other business schools.
The Mumbai Chapter functions as one unit. We are currently structured as two teams – one for events and one for outreach, sponsorships and external relationships. This allows us to routinely keep engaging with the community yet not lose sight of our events calendar. For instance, we recently had extremely positive discussions with the Ministry of Economic & Commercial Affairs of the Govt. of Spain wherein we were able to carve out a way for both entities to do events in Mumbai with Spanish companies that are doing business in India. We have an 8-member Board of Directors here in Mumbai, with one of our Board Members based in Spain and serving as a liaison with Barcelona for all activities primarily due to time zone differences and routinely helping with our PR and related activities. So while we each have carved out responsibilities we come together as a single cohesive team.
What can you explain about the event Woman in Business?
Unlike a few years ago, a younger India is now willing to take more chances at starting up and pursuing careers in unconventional industries. Given the scale of opportunities currently, it is important to understand from successful entrepreneurs on what it takes to do business in India. What makes an entrepreneur have the conviction to look beyond the tough times? What makes them less risk averse than their peers?
ESADE Business School has always encouraged budding entrepreneurs and ensured that there is no dearth of resources and guidance. After the school was ranked The Best Business School in Europe for Professional Women, it was crucial to open these conversations in the Asian markets. The ESADE Mumbai Chapter has always believed in bringing the kind of events that matter not only to our alumni, but also to the community and our networks as a whole.
Which benefits do alumni get for being Chapter members? Which role does the Chapter take?
The alumni members get the following benefits:
With each successful event the ESADE Brand gets more known in Mumbai. As brand visibility increases this becomes beneficial to the alumni as it eases career related entries for working professionals across the spectrum for newer opportunities.
They get access to meet company heads, senior management professionals from across the industry to engage with in highly niche & well-structured discussion forums.
They also get the opportunity to network with alumni from other business institutions, media professionals and professionals from across the industry.
From all of the above they get the opportunity to network, network and network. Which in our opinion is key to working in a relationship driven market like India.
The Chapter takes the role of not only organizing this but even help facilitating connections post event. 
Which future goals do you have for the Chapter?
Future goals for the Chapter have been carved out based on where we are today and what we wish to accomplish. They are as follows:
Consistency in events – we wish to continue to keep churning out a similar calendar of events every year. This allows us to become reminiscent with good quality and content heavy events that ultimately allows us increase our brand in India.
Themes: With each event we wish to experiment with more and more themes where eventually we can have discussions on controversial topics.
Ecosystem Building: We have worked very hard along side not just with Alumni but also Career Services and Admissions to build our community here. This has now become a routine and we wish this collaboration continue for the future in bringing together high-quality events.
We wish to open more doors professionally for our alumni returning to Mumbai through our events and networks.
We also hope that more alumni start taking an active role helping in ideating for our events.
What is it like to live and work in Mumbai?
Living in Mumbai is living the fast-paced life. There's not much time to rest but an urgency in making it big in life – the rewards of which are….well…..rewarding! The work life balance does tend to go for a toss and with an upgradation in city infrastructure, traffic and travel is challenging. However, the city is all about relationship building and therefore presents a very unique opportunity for networking and collaboration. With the landscape changing globally, Mumbai will be one of the first cities to realize this phenomenal shift in all aspects i.e. work life balance, professional opportunities, the emergence of new industries and openings therein, as also introducing more women into the work force.
Mumbai or Bombay as we like to call it, has been where I have been born, bred and brought up. So, working here and making it in the big city has been at my very core. 
How do you think the ESADE Alumni International Network can help the alumni in their professional or personal experience?
I believe that the International Alumni Network can help/assist in the following ways:
Creation of an Open Forum: A discussion forum across the globe where one can know alumni all over the world can log on to connect to discuss on trends, news and debate on anything from corporate to start-up to business strategy. This in my opinion would not only get a dialogue going but will help connect alumni with each other across different batches.
Opportunity Sharing: Good roles/profiles are hard to come by and very often are not available on website applications. An internal tool which can be part of the above can be developed to share quality level opportunities for ESADE alumni only at a global level. This can prove to be very crucial to alumni to look for professional growth at a quicker pace – simply because ESADE has alumni working at amazing companies across the globe and with good roles. So, the international alumni community can actually help in creation of these roles.
With the above two a whole new area of communication can exist between alumni globally which can lead to a new-found area of collaboration.
What does ESADE Alumni mean for you?
Dialogue, collaboration, networking, connections and team work.
Executive Board
Udeepto Maheshwari (MBA 14), Chapter President
Omkar Wagh (MBA 16), Chapter Vice President
Anand Agrawal (MBA 16), International Relations Adviser
Vishesh Dalal (MBA 18), Board Member
Maansa Garmella (MsC10), Board Member
Priyanka Gelli (MBA 11), Board Member
Rishi Shroff, Treasurer