International conferences and meetings
ESADE Alumni Experience Day in Dubai
ESADE Alumni and ESADE Business School joined forces to organize the ESADE Alumni Experience Day in Dubai, an event open to ESADE alumni and also all the people living in the United Arab Emirates and other countries nearby interested in innovation, strategy and opportunities in the Middle East. The event hosted such famous speakers as Luis Vives, Deputy Dean and professor of Strategy, Management and Innovation at ESADE Business School, and Víctor Font (BSc and MBA 1995), co-founder and CEO of Delta Partners, who talked about Developing Sustainable Innovation & Growth in the Middle East.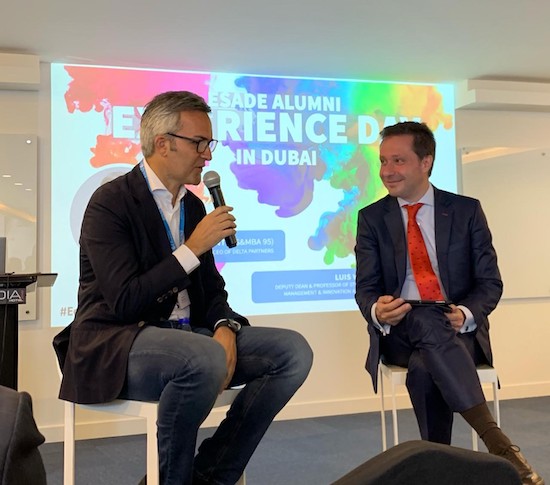 Biz Talks in Mumbai
As part of the ESADE Alumni Mumbai Chapter Biz Talks series, Ashish Khazanchi, managing partner of EnormousBrands and a very well known personality in the advertising industry in India, shared his perspectives on the Indian landscape today and the evolution and emerging trends of the Indian consumer.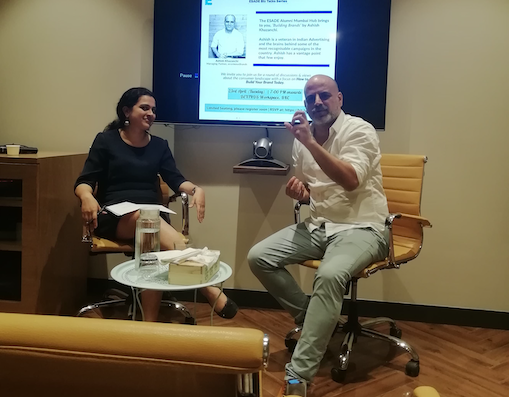 Successful and Inspiring Women in New York
The ESADE Alumni NYC Chapter organized the event Successful and Inspiring Women: Determining the Leadership DNA, held by Ruth A. Davis, the former Director General of the United States Foreign Service, Director of the Foreign Institute and Ambassador to the Republic of Benin; Eugenia Bieto, the former Director General of ESADE Business & Law School and Chair of the CEMS Global Alliance in Management Education; Gema Sacristan, Chief Investment Officer and member of the senior management team at IDB Invest; Lisa Bloomberg, Principal Director with Accenture's Financial Services Group / Finance and Risk – North American Regulatory & Compliance practice; and Gemma Cortijo, Executive Director of the Spain-U.S. Chamber of Commerce.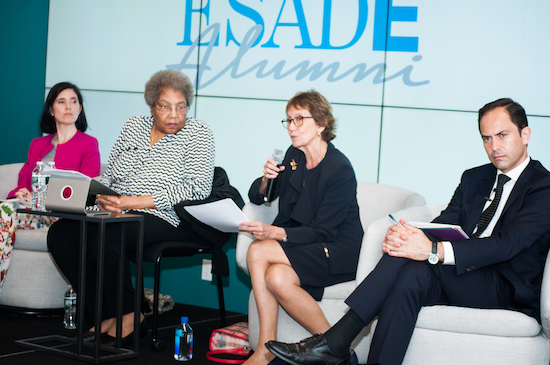 From zero to hero: the Italian startups can make it
The ESADE Alumni Rome Chapter presented, the 22nd May in Rome, an event about a topic of great interest to the entrepreneurial Italian ecosystem: the role of business angels, accelerators, ventures capital and the State in the development of startups, with representatives of the most important institutions operating in the world of startups, such as Marco De Guzzis, Market Development and Services Manager at lnvitalia and Member of the Italian Angels For Growth; Anna Amati, Founder and Vice President of META Group and Director of Angels4Women; Lorenza Morandini, Executive Vice President Impact Hub Milan; Roberto Magnifico, Partner – Board Member in LVenture Group; Giambattista Dagnino, Professor of Economics and Business Management at the University of Rome LUMSA
How Technology is Disrupting the Sports Industry
ESADE Alumni Dubai London brought together sports industry professionals to share their insights and experience in an industry that is facing a whole new business model, with a new set of opportunities and challenges: the Sports Business has never been as dynamic and alive ever before as it is in the new digital world. In the era of TV virtual content, e-Sports, fantasy sports, player tracking and interactive Social Media, sports content is everywhere and available through multiple devices and platforms to billions of fans around the world. On 17thof June, the ESADE Alumni London Chapter organized a Round Table with Keegan Pierece, Delegate UK and Ireland LaLiga; Thomas Ehemann, Nwe Business FB Bayern München, and Daniel Forth, CEO & Co-Founder Celebreak.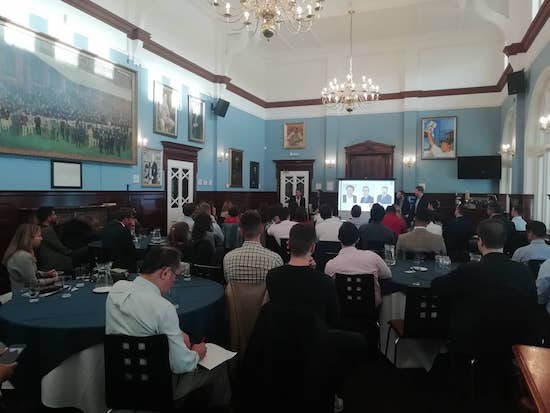 Also events in:
Amsterdam
Andorra
Athens
Austin
Basilea
Beijing
Berlin
Bogotá
Brussels
Budapest
Buenos Aires
Curitiba
Dubai
Dublin
Frankfurt
Geneva
Hamburg
Hong Kong
Houston
Jakarta
Lausanne
Lima
Lisbon
London
Los Angeles
Luxembourg
Melbourne
Mexico
Miami
Milan
Montreal
Mumbai
New Delhi
New York
Paris
Porto
Riyadh
Rome
San Francisco
Sao Paulo
Shanghai
Sydney
Tokyo
Toronto
Vancouver
Vienna
Warsaw
Washington
Zurich