International conferences and social meetings
London
KPMG created a Brexit team after the vote to ensure it could support their clients and help EU citizens understand their options better. As part of that initiative, the ESADE Alumni London Chapter had the opportunity, on February 21st, to listen to Punam Birly,Employment & Immigration Partner at KPMG UK,  Mark Essex, Director of Public Policy at KPMG, and Hannah Cool, Senior Manager Risk Consulting, who shared their thoughts on the policy, business and workforce implications of Brexit during the session "To be or not to be".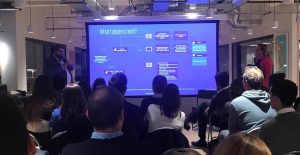 Dubai
According to the World Economic Forum, massive data fraud and theft and large-scale cyber-attacks are one of the main global risks facing the world. Companies, governments and organizations begin to focus their efforts on cybersecurity as part of the digital transformation of the economy and society. It is essential to adapt companies in order to prevent and respond to these new threats which are increasingly sophisticated and affect people, companies and governments. The ESADE Alumni Dubai Chapter organizad a round table, on February 28, where cybersecurity experts in different fields will give us insights into the basics of cybersecurity.The speakers were Xavier Tormo, Director Client Success at DarkMatter LLC; Rani Hmayssi, Regional manager at Palo Alto Cybersecurity solutions división; Jean-Paul Tarud,  Chairman at Deca4 (agents of ClearSky in GCC) and former Chilean Ambassador to UAE; Iñaki Ocaña, Director of the international area at ESADE Alumni, and Marc Gelabert, Admissions Associate Director, will fly from Barcelona to Dubai for this special occasion.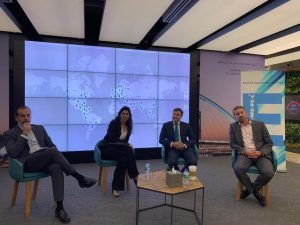 Frankfurt
One of life's most enriching qualities is the power we have to develop ourselves. We hold the keys to success, and the secret of how to achieve this is inside each of us. We just need to find it. The ESADE Alumni Frankfurt Chapter organized the first session of 2019 on January 24th: "Do you dare to overcome…yourself? Transform your life to find your direction, balance, and joy". This talk inspired and motivated the alumni to find their worn key, giving several of the tools necessary to transform your life and start truly living it. Alexandra Panayotou is a charismatic motivational speaker and executive guide/coach, who works in personal and professional development both in Spain and internationally. Her insight into and her understanding of the human process are developed from her outstanding success as an endurance athlete, combined with her academic background in psychology, sociology, and philosophy.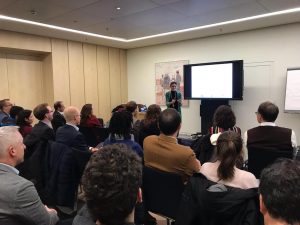 New York
Also on January 24th, the ESADE Alumni NYC Chapter celebrated their first event of the year. During the talk "Will Artificial Intellingence ever understand human reasoning?", the ESADE professor Núria Agell addressed several concepts about reasoning in uncertain scenarios in the field of AI with particular emphasis on how intelligent systems can understand and help humans in the spheres of creativity and consensus. Núria Agell outlined ways in which such concepts can be applied to real-life management arenas such as helping town planners choose the location of a new factory or helping a master chocolate maker create a new selection of flavours. Núria Agell holds a PhD in mathematics (University of Barcelona) and in applied maths (UPC-BarcelonaTech). Her dissertation was about artificial intelligence, specifically in the field of qualitative reasoning models. She is an active member of the Catalan association of artificial intelligence (ACIA) and the European thinktank on multicriteria decision taking.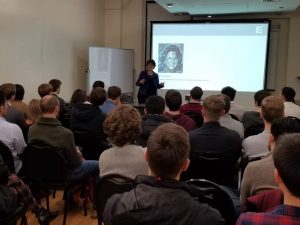 Zürich
On February 28, the ESADE Alumni Zürich Chapter together with the IMD MBA Alumni group organized a specially designed speed-dating career fair where ESADE alumni had the opportunity to meet a variety of head-hunters, recruiting agencies, and HR professionals based in Switzerland. From 5 pm to 9 pm, all the alumni present attended their planned meeting agenda and finally took place a Networking Apero.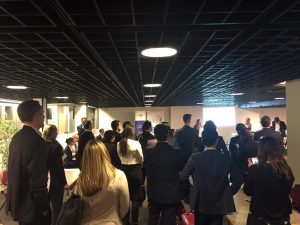 Social Events in:
Moscow
Tokyo
Shanghai
Mumbai
Taipei
Amsterdam
Brussels
Luxembourg
Los Angeles
Singapore
London
Tel Aviv
Guatemala
Düsseldorf
New York
Frankfurt
Dublin
Paris
Andorra
Miami
Lima
Mexico
Zurich
New Delhi
Athens
Boston
Lisbon
Bangalore
Rome
Geneva
Rio de Janeiro
Berlin
Munich
San Francisco
Dubai
Beijing
Hamburg
Bogotá
Montreal
Osaka
Johannesbourg
Istanbul
Cape Town
Buenos Aires
Whasington
Austin
San Jose
Stockholm
Lausanne
Santiago de Chile
Sao Paulo