International Conferences and Social Meetings
Tel Aviv

The ESADE Alumni Tel Aviv Chapter organized the Tel Aviv Talent Night at the Campus Tel Aviv.

 As the start-up nation of the world, Israel and particularly Tel Aviv are known for being amongst the strongest players on the scene. Have you ever wondered why? The event was an exciting evening with CEOs and high-ranking professionals from some of the most well-known companies to examine the topic: "The involvement of international enterprises in the Israeli innovation eco-system", with the participation of Yavin Gill-More, CEO of yad2; Or Offer, CEO of SimilarWeb; Noam Mor, creative director of i.am+ and CEO of over.ai; Lotem Alon (FT MBA 2013), president of the ESADE Alumni Tel Aviv Chapter and business strategy expert Feedvisor; Ben Yaron, senior associate at Start-Up Nation Central; and Yoni Blau, managing director of LabIX, Flex's venture arm. During the event, the alumni heard a keynote speech, participate in an interactive panel discussion and have plenty opportunities to network.
Moscow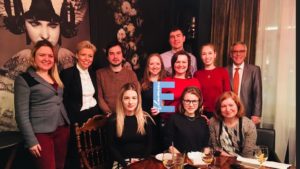 The ESADE Alumni Moscow Chapter celebrated a dinner talk about neuromarketing, with Lluís Martínez (Lic&MBA 76), ESADE professor of Marketing Innovation and Neuromarketing strategies.
 Usually there are no words to explain why we like something, we just feel it.
 Neuroscientists confirm that the great majority of human decisions are non-conscious, even those related to b2b. If this is the way we make purchasing decisions, which kind of marketing should we practice?

 In this ESADE Alumni dinner talk the professor shared how neurosciences can help us to make our products, services – or even our personal branding – more brain-pleasing.
Frankfurt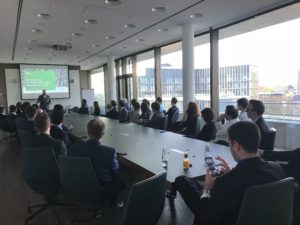 The ESADE Alumni Chapter Frankfurt, in collaboration with The Boston Consulting Group, organized the session "Big Data and fintechs: will banks disappear by 2030?", a talk by Magí Clavé, deputy director general at the European Central Bank, and Jörg Erlebach, senior partner and managing director at The Boston Consulting Group.
 Regulation, technological advances and new entrants have reshaped banking in the last few years. During this session, Magí Llorenç Clavé and Jörg Erlebach extrapolated these developments and outlined their forecasts for banking in 2030, focusing on big data and market trends. 
Iñaki Ocaña (Lic&MBA 06 / DARH 12), the International Alumni Relations Director, and Carlos Casamajó, ESADE Alumni International Coordinator, flew in from Barcelona to joined the alumni on this special occasion.
Zurich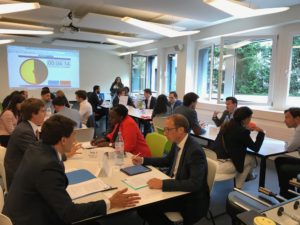 The ESADE Alumni Zurich Chapter organized a specially designed speed-meeting career fair for the alumni looking for a next career opportunity in Switzerland before the summer shuts down on hiring and/or to expand his local professional network. On the fair, they had the opportunity to meet a variety of head-hunters, recruiting agencies, and HR professionals based in Switzerland.
Geneve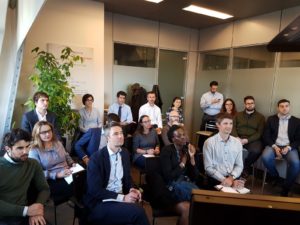 Two thirds of jobs will disappear in the next 15 years, many will be redefined and people will probably not have the new skills needed for new jobs. For this reason, the ESADE Alumni Geneva Chapter organized a career event at the Michael Page offices to examinate the outlook of the job market and different recruitment channels, and giving tips about creating great LinkedIn profiles.
Social Events in:
Amsterdam
Andorra
Athens
Austin
Bangalore
Basel
Berlin
Bogotá
Boston
Brussels
Buenos Aires
Copenhaguen
Costa Rica
Delhi
Doha
Dubai
Dublin
Düsseldorf
Frankfurt
Geneva
Guatemala
Hamburg
Ho Chi Minh
Hong Kong
Istanbul
Lausanne
Lima
Lisbon
London
Los Angeles
Luxembourg
Manila
Mexico
Miami
Milan
Moscow
Mumbai
Munich
New York
Paris
Porto
Rio de Janeiro
Riyadh
Rome
San Francisco
Santiago de Chile
Sao Paulo
Shanghai
Singapore
Sydney
Tel Aviv
Tokyo
Toronto
Vancouver
Viena
Warsaw
Washington
Zurich