International conferences and social meetings
New York City
Around 60 alumni had the opportunity to learn first-hand about the future strategies and business models of FC Barcelona, LaLiga, NBA and MLS (Major League Soccer) at the FC Barcelona HQ in New York in an event chaired by Jose Angel Abad, journalist at Antena 3 TV. Gerard Guiu (EMPA 08/Lic&MD 02), FCB Institutional Relations Director in New York, and Raúl González, former Real Madrid player and current USA Country Manager of LaLiga, agreed that the U.S. is a business opportunity for European football clubs, which is why FC Barcelona decided to open a representation and business office in New York. In addition, Emilio Garcia Duarte, NBA LatAm Marketing Director, explained that the NBA's growth strategy outside the USA is "to take into account the player's nationality, whose fans from different countries can identify with more directly."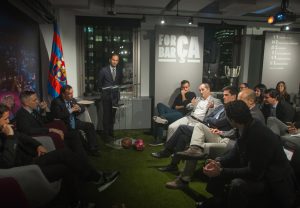 São Paulo
The ESADE Alumni Brazil Chapter organized last November 10th a talk by David Díaz (Lic&MBA 93), who discussed the experience of Abertis in Brazil from a crosscultural viewpoint.  Díaz has spent the last twelve years working at Abertis, first as head of Strategy and Corporate Development and after as Managing Director of Toll Roads Americas.
Lima
Change management, adapting to different management environments, and particularly personnel management contribute to long-term corporate survival. For this reason, the ESADE Alumni Peru Chapter have organizated this event, the first of 2017. This event had the participation of Andrés Raya (MBA 89), Academic Assistant in the Department of People Management and Organisation at ESADE, and José Carlos Lumbreras, Director of Project Development at Peru: TOP Publications. José Carlos Lumbreras gave a talk entitled "The Effect of the New American Government on Top Companies in Peru: Foreign Trade, Sector-Specific Impacts and Risks for Future Growth" while Andrés Raya talked about "Change management and the professionalization of companies and managers. What are the best doing?"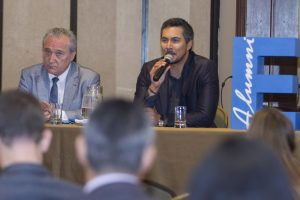 London
Desire is big business. But desire doesn't just happen. Creating desire isn't just about marketing: it's a reflection of an organization-wide culture and perspective. Using international case studies, Brand Desire explains how companies can engage customers emotionally and create value for them. The ESADE Alumni UK Chapter organized the first ESADE Alumni UK Meeting. The speakers were Professor Oriol Iglesias, Associate Professor in ESADE's Department of Marketing, Director of the ESADE Brand Institute and Coordinator of GRECOMAR, the ESADE – URL brand and consumer research group, and Nicholas Ind, writer and partner at Equilibrium Consulting. They have been writing their book Brand desire: How to create consumer involvement and inspiration and they presented it at the I UK ESADE Alumni Meeting.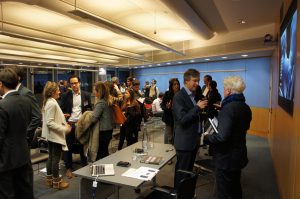 Johannesburg
The ESADE Alumni South Africa Chapter arranged a session led by Aidan Baigrie, an experienced leader in high-profile tech and media companies who talked about the roll of mobile in changing Africa. Aidan is responsable for Facebook's growth in over 40 countries. In addition, he brings a unique perspectiva to problem solving which stems from his early days of coding and app development, lean reengineering in Africa's largest banks, advising on turnaround plans for small businesses and leading some of the most dynamic tech start-up projects in Africa.
Milan
The ESADE Alumni Italy Chapter Board and the CEMS Alumni Association organized a talk with the Human Resources Directors of Vodafone and L'ORÉAL last November 14th. The human resources area is continuously evolving bringing up new opportunities and new challenges. Gianluca Ventura, Vodafone's Regional HR Director Africa, Middle East, Asia and Pacific, and Mathilde Beaudouin, L'Oreal's Talent Recruiting Director were part of the Panel Discussion. During the evening, the two directors went over the main reasons of success or rejection of a candidate in 2016, the main human resources strategies and future projects.
Social Events in:
Tokyo
Milano
New YorkDublín
Frankfurt
Delhi
Bangalore
Mumbai
Athens
Lisbon
Munich
Athens
Paris
Malmö
Moscow
Sydney
Seoul
London
Dusseldorf
Sao Paulo
Taipei
Viena
Singapore
San Francisco
Zurich
Luxembourg
Ámsterdam
Warsaw
Hong Kong
Brussels, Tel Aviv
Thessaloniki
Cologne
Santiago de Chile
Porto
Istanbul
Panama
Geneva
Washington
San Francisco
Johannesburg
Toronto